Thank you BJ's Wholesale Club for sponsoring this post.
My time is precious, my time is limited, my time is prioritized from the time I wake until the time I lay my head on my pillow at night. Sound familiar? I am a mom of two toddlers, I am a wife to a full time (well over 40 hours per week) working man and a business owner of a lifestyle brand with a huge product launch coming up. It is a constant struggle to decide what to do now and what to do later. In another life, I want to come back as an octopus with a genie lamp that has unlimited wishes and can accomplish anything without the limitation of time. But today, in this life, in this reality- sometimes I make my errands a family event.
Raise your hand if you feel like you constantly have a grocery list going? As if the second you have unpacked your bags from the store you are then reaching for a pen to jot down what you forgot. I need a place where I can get everything I need at everyday low prices and unbeatable quality. Due to this, I started doing once a month trips to BJ's Wholesale Club.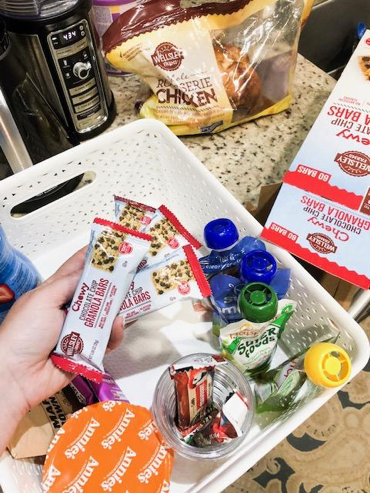 Not far from my home is a BJ's Wholesale Club, for those not familiar, it is a wholesale membership-only warehouse club. A BJ's Membership is so convenient. They offer the lowest gas prices around, as well as the ability to shop from BJs.com, the BJ's mobile app and Shop BJs.com – Pick up in Club. As if that weren't enough, BJ's also accepts manufacturer's coupons – one of the the only membership warehouse club to do so. Plus- when you sign up, they provide you with TONS of coupons to use right then and there!
My husband and I started Keto not too long ago. He has pretty much fallen off the wagon, however I have a wedding to be in shortly, so please hold the garlic bread and pass the cheese! Grabbing Keto friendly items from a wholesale store is highly recommended by all Keto veterans.
My little ones are HUGE snackers, like all day long snackers. Don't let them fool you, they will still sit for all meals and clear their plates as well. Between them and my husband, bulk buys, quick meals and ready to go snacks are always needed.
BJ's has their own exclusive brand, Wellsley Farms, that provides shoppers with high quality products from the finest growers, bakers, ranchers and fishermen from around the world – some even in your backyard. I also love that Wellsley Farms offers a wide selection natural and organic products at an such a great value. Check out the items I grabbed at my recent BJ's trip.
Ya'll there's Dunkin' Donuts inside my BJ's location! This was perfect for us as a family trip. My husband and I grabbed our usual cold brews while we grabbed a sweet treat for each little one to snack on while we shopped.
Fellow Mama's- here's a golden ticket for you! I'm sharing my refer-a-friend link for you to join BJ's today and earn a $25 gift card!
I was selected for this opportunity as a member of CLEVER and the content and opinions expressed here are all my own.